Where do Öresundståg operate?
The Öresund trains take you from Gothenburg, Kalmar and Karlskrona in the north to Malmö, Copenhagen and Østerport in the south. Please note that Burlöv in Skåne is a new station from 10 December 2023.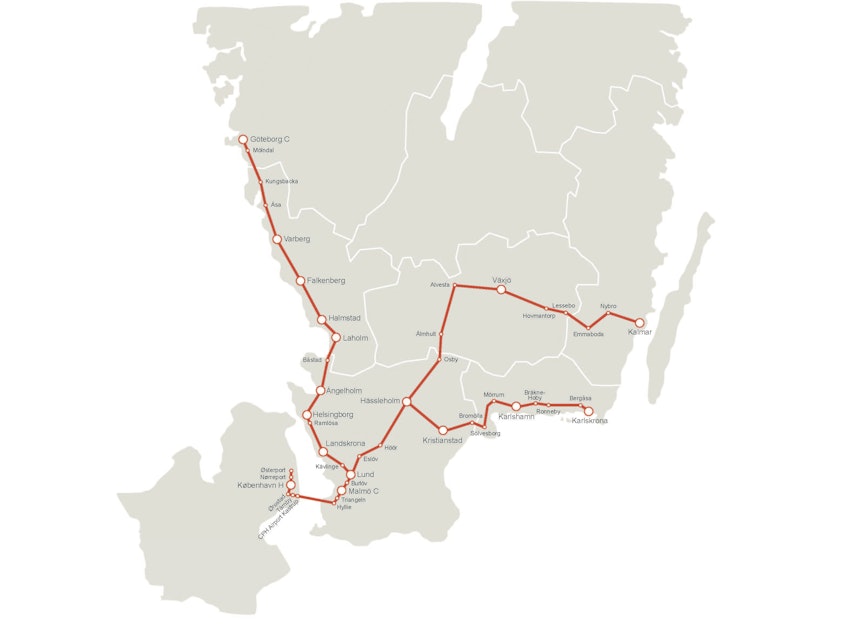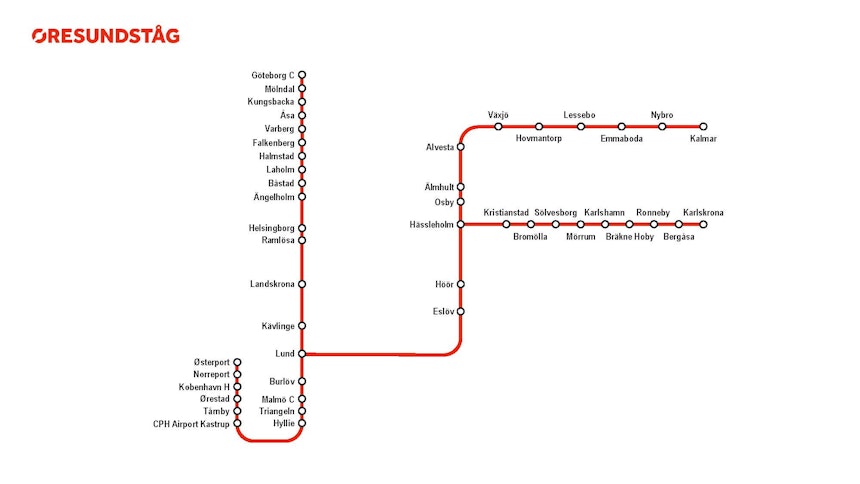 Each county has a regional transport company and they are the ones you contact for travel cards, discounts or delay compensation. Below you will find their contact details.
Blekinge - Blekingetrafiken
www.blekingetrafiken.se | 0455-569 00
Bergåsa
Bräkne Hoby
Karlshamn
Karlskrona
Mörrum
Ronneby
Sölvesborg
Halland - Hallandstrafiken
www.hallandstrafiken.se | 0771-33 10 30
Falkenberg
Halmstad
Laholm
Varberg
Kalmar - Kalmar länstrafik
www.kalmarlanstrafik.se | 010-21 21 000
Kronoberg - Länstrafiken Kronoberg
www.lanstrafikenkron.se | 0771-76 70 76
Alvesta
Hovmantorp
Lessebo
Växjö
Älmhult
Skåne - Skånetrafiken
www.skanetrafiken.se | 0771-77 77 77
Bromölla
Burlöv (new station from 10 Dec 2023)
Båstad
Eslöv
Helsingborg
Hyllie
Hässleholm
Höör
Kristianstad
Kävlinge
Landskrona
Lund
Malmö
Osby
Ramlösa
Triangeln
Ängelholm
Västra Götaland - Västtrafik
www.vasttrafik.se | 0771-41 43 00
Göteborg
Kungsbacka
Mölndal
Åsa
DANMARK - Skånetrafiken
www.skanetrafiken.se | 0771-77 77 77
København H
Københavns Lufthavn/Kastrup
Nørreport
Tårnby
Ørestad
Østerport